Last night my tita excitedly showed me a box of pastry that was given to her by a friend. When I saw the brand Vjandep, my heart pumps double time… OMG! It's my favorite pastel from Camiguin!!! She told me to get one, but I refused, Ha! Ha! I told her "Tita since it's your first time, I will let you enjoy all the pastels, because for sure, you'll regret giving me at least a bite of that after you taste them" hehehe…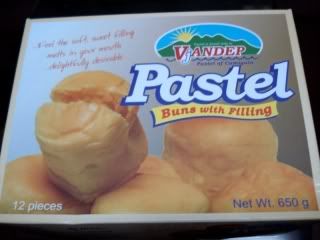 The pastel from Camiguin is like a dinner bun with a sweet custard feeling. Vjandep Pastel can be purchase also in Cagayan De Oro because they have branches there too.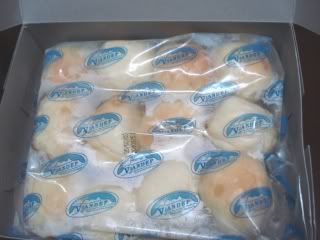 I did not dare to open it! Baka biglang maging monster ako at maubos ko ang pastel... grrrrwl!!!
For those of you who want to taste the deliciously baked pastel, I think there's a store in Tiendesitas and Market Market in Taguig that sells Vjandep. The price of course is much higher than the one being sold in CDO.