I was one of the participants last Saturday of the Pilgrimage organized by our Parish Church – Sacred Heart of Jesus Parish. It was their 2nd successful pilgrimage which was arranged by Bravo Travel and Tours. The whole trip was very enjoyable because the tour guides are very witty, they gave us important information about the churches that we are visiting. No dull moments on board because there were plenty of games that they prepared for us. Thanks to my good friend Angie who makes this trip possible for me… (humabol lang ako actually) There were 4 buses and most of the participants were members of the church community and parishioners like me. The tour was a post "Visita Iglesia" since we visited 7 churches (5 in Pampanga and 2 in Tarlac) namely:
1. St. Peter Church – Apalit, Pampanga
2. Metropolitan Cathedral – San Fernando, Pampanga
3. St. Augustine Church – Lubao, Pampanga
4. St. James the Great Church or Betis Church – Guagua, Pampanga
5. San Guillermo Church – Bacolor, Pampanga
6. Immaculate Conception Church – Cupcupin, Tarlac
7. Monasterio de Tarlac – San Jose, Tarlac
I want to share the pictures of those churches that I've mentioned above, I will not include here the Monastererio de Tarlac because I feel that it is worth to have its own entry for I think it was the best among the rest.
St. Peter Church
I fell in love with this church, it is ideally located in one of the barangays of Apalit Pampanga. It was built in 1590 and was destroyed by a powerful earthquake in the 18th century. The present church was constructed by Mariano Santos of Guagua Pampanga under the supervision of the Rev. Antonio Redondo O.S.A. between 1876 and 1880. Its towers were finished in 1896 by the Rev. Toribio Fanjul who purposely made the ceiling low to minimize the effects of earthquakes.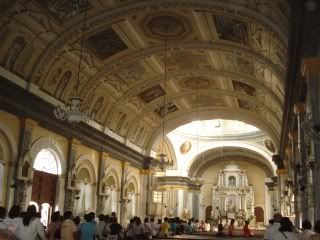 The murals on the ceiling of St. Peter was done by Caesare Alberoni an Italian free-lance painter.
The church cupula was a rendition of "apocalypse"
The participants in the pilgrimage. (Look for me!!!)
Metropolitan Cathedral of San Fernando Pampanga
The Cathedral is the seat of the
Archdiocese of San Fernando
, Pampanga. The church was twice destroyed by fire on May 1899 and on the year 1939, and later restored by architect Fernando H. Ocampo.
In 1948 the church was elevated to Cathedral when it became the seat of the Diocese of San Fernando, canonically created by
Pope Pius XII
. Later in 1975, the diocese was elevated by
Pope Paul VI
, to Archdiocese of San Fernando.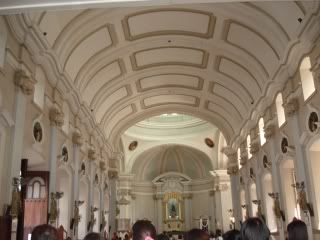 It is located infront of San Fernando City Hall.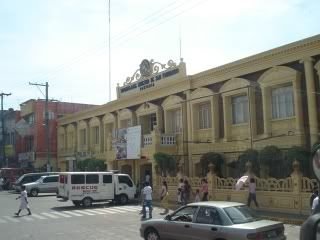 St. Augustine Church
Lubao, Pampanga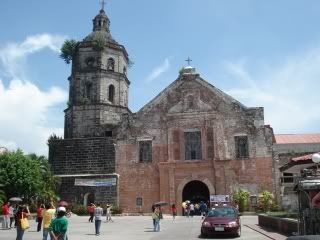 The St. Augustine's church was first built in 1572 in barrio Santa Catalina by Fr. Juan Gallegos. Due to annual floods in the area, it was moved to the present site thirty years later. An Augustinian priest and architect, Fr. Antonio Herrera, constructed this parish church in 1614-1630 out of locally made bricks and sand mixed in egg albumen provided by the people of Lubao. The church was occupied by
Philippine
revolutionary forces in 1898. In 1899, it was used also as a hospital by American soldiers and in 1942, it was damaged by Japanese shelling. Under the direction of Fr. Melencio Garcia and other priests, it was repaired in 1949-1952. The church is 82.45 meters long and 21.12 meters wide.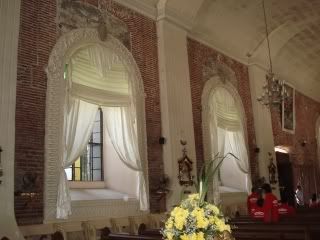 (OMG! ka laking kurtina nire!!!)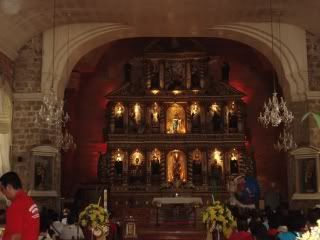 The beautiful altar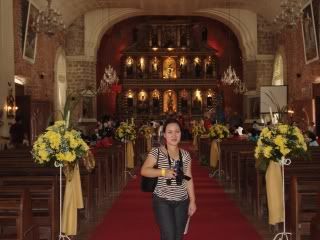 This is my friend Angie (Thank you so much Gie!!!)
It is also historical because according to our tour guide Chico, it was the church where the late Pres. Diosdado Macapagal was baptized.
Well, this ends the first part of my entry. Hope you'll like it!!! Wait for the second part...