It all started last Saturday when I received a text message from ABSCBN that says "You are given a chance to play as studio contestant of PBN, for screening pls. come on Monday-1 pm at the audience entrance" I was a bit excited and worried at the same time if my hubby will allow me to attend the screening which I know will take so much of my time. But he allowed me to go and there came Monday morning and I was a bit nervous because it's my first time to join such contest on TV.
The screening itself was a bit tedious because you have to fall in line with lots of contestants to be. I don't have my digicam with me on my first and second day so I was not able to take pics on what was happening during the screening. Grabe as in grabe! When I entered the studio i heard someone shouting "Bingo, Bingo, Bingo!!!" yun pala it's part of the screening, you have to speak in front of the people of at least 300 or more holding a microphone and tell the organizers what is your reasons in joining the contest and what will you do to the money if you win and then after you have to shout BINGO for 3 times. If you're not energetic and has a soft voice they will turn you down and say thank you for joining.
Eh since sayang naman ang aking ipinila for 2 hours ay nilakasan na ng lola nyo ang aking boses at ayun, pasok ang lola sa game. Hahahaha!!!. For those who passed the screening we were asked to proceed at the next studio for orientation (Singing Bee Studio maliit lang pala ito sa TV ang laki nya) at dun sinabi na two days kaming maglalaro, Tuesday at 1 pm and Wednesday at 10:00 am... grabe almost 5 hours pala ang kailangan hintayin bago ka maisalang at isama mo pa diyan ang biyahe balikan halos 8 hours a day ang maco-consume mo para lang sa contest na ito. No consolation prize kaya sapalaran para sa iba talaga ang pagsali dito at bonus talaga kung mananalo ka. I joined this contest because first, i want to experience this kind of game and have fun; 2nd, i want to see Kris Aquino in person and the guest artist who will play with the Bingoers 3rd, Bonus na lang kung mananalo. When I was listening to the reasons of some other hopeful contestants, I pity them for they really need to win. There was a lady there who was wearing a cap, all of us were asked by the staff to remove our hats or caps before entering the studio, this lady did not follow, yun pala she has a bone cancer and undergoing a chemo kaya kalbo siya, mabait naman sila and they allowed her na to use it.
Game proper, ang ganda ng mismong studio, you can see that talagang pinagkagastusan. We were all stunned when we saw Kris wearing her signature Filipiniana dress. Ang ganda niya at super puti! pero the audience went wild ng lumabas na ang guest artist for that day, it happened to be KC Concepcion... she is really a stunner and a very sweet young lady. (Sorry guys, no pictures) The game was won by two deserving contestants, Loreta won P 25,000, she's 45 years old, a civil engineer by profession and has an 85 years old husband (ang layo ng age gap!) The 50,000 pesos was won by Mang Alberto who I think was a pastor and part the money will be used for feeding sessions in their church. I had so much fun on my first day even if i did not win, happy naman kasi hindi boring ang maglaro sa Pinoy Bingo Night!
On our second day, same pa din kaming contestants... yung iba ay hindi na bumalik maybe because nasasayangan sila sa gastos, kung hindi naman sila mananalo. Nakakatuwa because our guest that day was Bea Alonzo, she's also beautiful like KC, they have their own beauty, mas skinny nga lang si Bea ngayon. Same experience, i had a good time even if i did not win for i've won new friends naman. In our 2nd day, Victor won P 50,000 and he did not play na for the jackpot round for he needed the money for the operation of his mother-in-law who has a myoma.
These are the pics that i took during the 2nd day....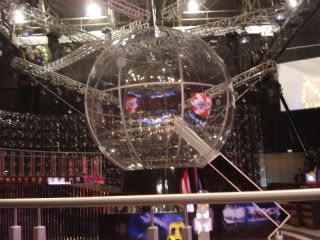 The giant "tambiolo"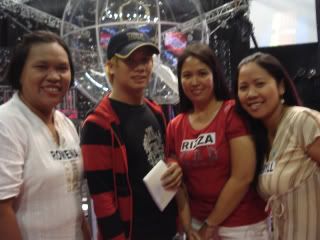 We're with Josh, siya ang nagpasa sa amin sa screening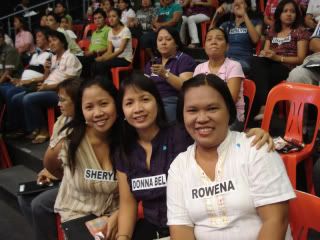 My new found friends Weng, Donna and Sheryl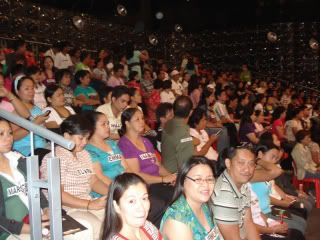 The 200 contestants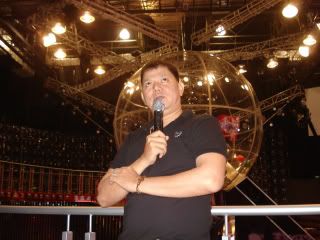 Master Jay ang aming clown
Direk and si Kris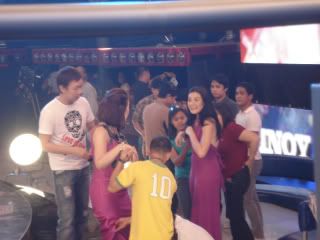 Bea and Kris chikahan moment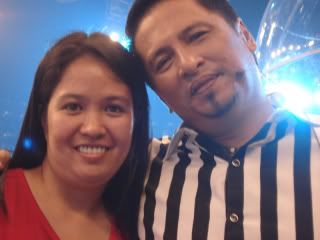 I'm with Commissioner Mel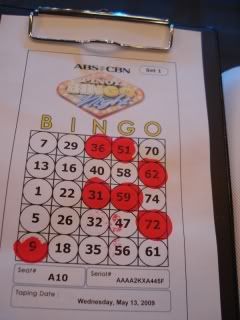 My Bingo Card
For those interested to join mag-online lang kayo sa abs-cbn.com at may online registration don ang PBN.